Hannah Cockroft
Invacare Sports Ambassador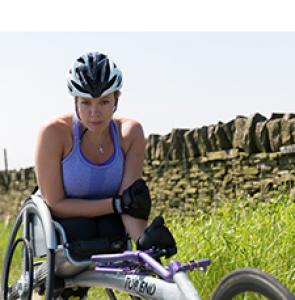 Invacare Sports Ambassador
Hannah is a British wheelchair racer and athlete who specialises in sprint and middle-distance races in the T34 classification. She is the current world record holder over 100m, 200m 400, 800m and 1500m distance, 100m Commonwealth Champion and the Paralympic records for 100m, 200m, 400m and 800m.  More recently has broken 4 World Records in the Sharjah International Open Athletics event, making her one of the most successful T34 wheelchair racers.
Hannah was first introduced to para-sport at the age of 12 when she took part in a wheelchair basketball demonstration at school, where her love of sports grew. Her racing debut took place at the World Championships in New Zealand at the age of 18 where she became double World Champion in the T34 100m and 200m - she's never looked back, and the rest is history!
Today, Hannah is a world-class para-athlete, and her positive, can-do attitude and determination has seen Hannah achieve success at the highest level in sports.  In 2022, in recognition of her 'services to athletics', she was awarded the OBE.
Off the track Hannah has a busy lifestyle with numerous appearances at events and on TV shows such as The Great British Bake off, The Crystal Maze, Strictly Come Dancing and Question of Sport. Her pursuit of excellence, and motivation to succeed makes Hannah an ideal ambassador for Invacare and our leading brands Kuschall and Top End. Currently Hannah uses a Top End OSR racing chair that offers speed and agility for the ultimate performance on track.  For her everyday chair, Hannah uses a Kuschall KSL 2.0.  The KSL is the lightest model in the Kuschall range with a rigid frame for high performance, its designed for the more experienced individual using a wheelchair.
Follow Hannah here