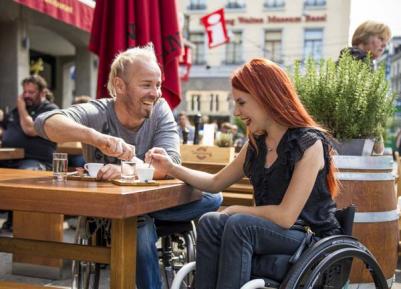 Here you can find a list of useful links to help you find information and advice.
Charities
Action Duchenne
Established in 2001, Action Duchenne is a parent and patient led registered charity. They fund developments in medicines and treatments to enable a cure to be found for the disease while raising awareness of and campaigning for improvements and change in patient health and care provision.



Duchenne is a severe and complex genetic muscle wasting disease. The condition is diagnosed in early childhood and affects mainly boys. Children are often in a wheelchair at the age of 10, and by their teenage years many are totally paralysed in need of 24 hour care and suffer respiratory, heart and spinal problems. Without effective health provision most young men die by their late teens or early 20s. The condition is life limiting. Currently there is no cure. Duchenne remains the largest genetic child killer. Duchenne is random in nature, it can occur unexpectedly in any family.
Motor Neurone Disease
Motor Neurone Disease Association is the only national charity in England, Wales and Northern Ireland focused on MND care, research and campaigning.
Motor neurone disease (MND) is a fatal rapidly progressing disease that affects the brain and spinal cord. It attacks the nerves that control movement, so muscles no longer work. It can leave people locked in a failing body, unable to move, talk and eventually breath.
Six people a day are diagnosed with MND, and it affects up to 5,000 adults in the UK at any one time. It kills a third of people within a year and more than half within two years of diagnosis. Unfortunately there is no known cure at the present time.
Mencap
Mencap is the leading voice of learning disability. Everything they do is about valuing and supporting people with a learning disability, and their families and carers.
Vision: a world where people with a learning disability are valued equally, listened to and included.
BackUp Trust
BackUp Trust aims to inspire independence in anyone affected by spinal cord injury and to encourage everyone to get the most from their lives.  They work with people of all ages, from young children to the elderly, whatever the motivation or background. Back Up relies on a vital family of volunteers, mentors and skilled professionals, who provide unrivalled support and enthusiasm for our work and who help us deliver services that rebuild confidence and self-belief. They help people realise their ambitions and overcome prejudice, creating the opportunity to transform lives.

 
Wheelpower
Wheelpower are dedicated to providing opportunities for disabled people to find a sport they enjoy and provide opportunities throughout the year to introduce people to wheelchair sport. With sports events in London, Birmingham, Glasgow and an advisor programme at some of the Spinal Injury Centre's around the country WheelPower have been able to help even more people.
Whizz Kidz
Whizz Kidz work hard to transform the lives of disabled children across the UK, supporting them to become confident and independent young adults. They provide disabled children and young people with vital mobility equipment, and life journey services, giving them opportunities to build friendships and have fun, and training to help them gain skills and look forward to a bright future.
 
Alzheimer's Society
Alzheimer's Society is the UK 's leading support and research charity for people with dementia, their families and carers. They provide information and support to people with any form of dementia and their carers through publications, National Dementia Helpline, website, and around 3,000 local services. They also campaign for better quality of life for people with dementia and greater understanding of dementia. In addition, they fund an innovative programme of medical and social research into the cause, cure and prevention of dementia and the care people receive.
Disabled Living Foundation
Disabled Living Foundation is the UK's leading source of impartial information and expert advice on independent living. DLF is a national charity that has built up over 40 years an unparalleled range of information on daily living equipment and other useful advice for people who might need some help in living their live to the full.